Our mission is to bring you the finest in Scandinavian lifestyle gifts, interiors and accessories!
Hyggestyle is run by Becci and a team of enthusiastic fellows who love the Scandi way of life. Being part-Danish Becci has er, hygged all her life, and all the products we sell are tested and loved by her (in her Scandinavian log cabin!) and her family before we share them with you.
As a result of over twelve years of running award-winning online boutiques we started Hygge Style in 2017, with the aim of providing those hard-to-find Danish accessories that Bex loved in her childhood. Our emphasis is on beautiful, luxurious products and traditional Scandinavian ranges, all at sensible prices!
OUR ARTISTS
We aim to support talented artists and craftspeople, so many of our ranges are hand-made and exclusive to us; we stock hand-thrown stoneware by Sage Ceramics, upcycled wood by Odd and Faded, and hand-poured aromatherapy candles by NORSKA. Hand-stamped vintage flatware is created exclusively for us by the The Happy Viking, and our very hyggelig knitware from Fiddlesticks is all hand-made by the wonderful Lucy. Traditional Danish paper cuts are made to our own design, as are the very beautiful felt pom-pom items. If you have a product you think would fit in well with our collections, please drop us a line.
OUR ETHOS
In this world of fast-living and disposable gifts, we aim to bring you well-made items, chosen with love. We try really hard to not stock anything made of plastic, and place an emphasis on sustainable felt, wool, ceramic, glass, wood and metal; this is particularly true of our fabulous Nordic Christmas decorations, which we would love you to bring out year after year! We recycle all our packaging from our suppliers, and use recycled paper, biodegradable glassine and acid-free tissue for packaging where possible, so you can just pop it on the compost heap! We are delighted to have been given a Plastic Free Champion Award by Surfers Against Sewage too!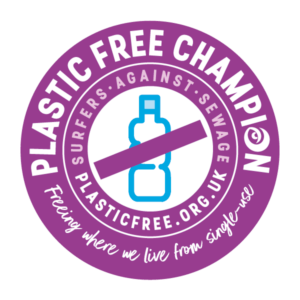 OUR COMMUNITY
We are proud to live in a beautiful part of Sussex, and we aim to put something back into the wonderful community in which we live. We support Cancer Research with our famous Hygge Style Coffee and Cake Extravaganzas and our chosen charity is the Alzheimer's Society, both of which are causes close to our hearts. We also sponsor the Christmas decorations at Royal Surrey County Hospital Early Pregancy Unit. (Bex is always happy to bunk out of the office for a morning to teach archaeology at the local primary school too, and she is also the Bushcraft and Survival officer for the local youth group).
PRESS INFORMATION AND COLLABORATIONS
In the first instance please email us using the contact form. We have written many articles, tips and recipes for national newspapers and magazines, and Bex is currently writing her fourth craft book, due for publication in 2023.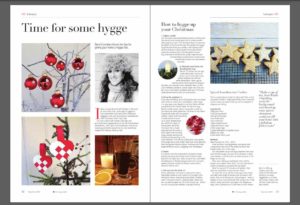 Lys runs her craft-based business from her garage & kitchen table at her home in Woking, Surrey.

She has always pursued creative activities both when working as an Occupational Therapist, and now as she manages a household with 4 children. 

The addition of a 3D carving machine to the workshop a few years ago increased the opportunities to explore new avenues of design.

Predominantly working with wood, and reclaimed/recycled materials, Lys has developed a wide range of products, hand and machine made that endeavour to be functional, decorative and sustainable. 

Gem is undisputed Queen of the Gift Box. She is in charge of Packing Zone Alpha where she makes every parcel feel like it was wrapped by happy elves, and her skill with ribbon colour combinations knows no bounds. Her likes include sloths, anything miniature, quizzes, sauvignon blanc and cross stitch; she is less keen on reverse parking and sport.

Janet is our financial whizz and tries in vain to control Becci's enthusiasm for buying Christmas elves. She is also heavily involved in the

campaign for anti-fetal convulsant syndrome 

and can often be seen and heard on national radio and televison supporting her charity.

"I have been in love with ceramics for roughly 10 years since I joined a pottery course in Western Australia where I lived at the time.  I am now lucky enough to be able to work from my own studio in the village of Storrington, tucked under the beautiful South Downs.  My work is mainly functional ware made from white earthenware and stoneware clays.  I hand decorate my pieces with coloured underglazes and like to plan my designs whilst walking, taking inspiration from flower and fauna, countryside and coast."

Becci spent her childhood holidays on the family farm in Denmark, and grew up with a love for all things Scandinavian. Originally she trained as an archaeologist (Vikings, of course!). Following a career as a glass artist she travelled round the world twice and started writing (her next book on sustainable crafts will be published in November). She teaches bushcraft and foraging, designs all the Hyggestyle products, lives in a log cabin with her son (Wolf) and cat (Cat), and loves schnapps and herring.