Friday 4th December is National Elf Day, a day of fund-raising and general dressing up in aid of the Alzheimer's Society; the photograph is a classic example of what happens when you try to get a 12 year old boy to wear an elf hat with his mother 😀
Here at Hyggestyle HQ we are delighted to be taking part, and will be a) wearing our elf hats, b) listening to Dean Martin and c) eating mince pies and stollen (although if I am honest we have been doing that solidly for about three weeks now).
We are also selling these lovely little crochet heart Christmas decorations in aid of the fundraiser, with 100% of the sales going to the Alzheimer's Society to support their vital work, both in helping families and providing vital funding for research. Each one was hand-made by Sue, Bex's lovely boyfriend's lovely mum, so we are ever so grateful to her for all her talent!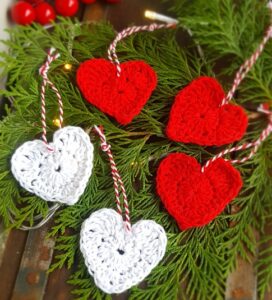 Bex's dad had vascular dementia, so we know only too well as a family how more research is needed,  and how necessary the work of charities like this is. If you would like to join the Elf Day fun, click here to find out more!
Lots of love
The Hyggestyle Elves x